Lazy Fascist Press have published some amazing authors–Alan M. Clark, Blake Butler, Bradley Sands, Douglas Lain, Molly Tanzer, Riley Michael Parker, Sean Kilpatrick, Sam Pink, Stephen Graham Jones–and now, me.
Here's the full cover spread for my Rock & Roll novel Chick Bassist, which will be hitting the streets just before Halloween! I couldn't be happier to not only have had the novel edited by Cameron Pierce and a jacket designed by Matthew Revert, but to have the novel feature that cover photo, by Theresa Kereakes, featuring a young Lorna Doom, bassist from The Germs, which is a bonafide piece of punk rock history (and that back cover image is of the late Darby Crash sticking a toy gun into Lorna's mouth). Wow!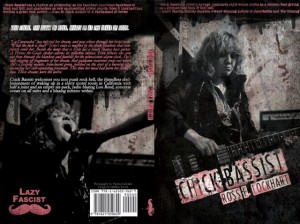 "Chick Bassist is like the very best rock–gritty, haunting, gorgeous and unforgettable. Also, it's best read aloud, at top volume." –Spike Marlowe, author of Placenta of Love
"Chick Bassist has a rhythm as primordial as the backbeat/heartbeat-backbone of Rock and Roll, and characters as raw as shredding power chords. Ross E. Lockhart has written a great rock novel!" –Alan M. Clark, author of A Parliament of Crows.
"Chick Bassist is utterly savage, Lockhart's style waxes poetic as a modern Beat giving us a glimpse into Rock & Roll Hell." –Laird Barron, Shirley Jackson Award-winning author of Occultation and The Croning