I was invited to be a presenter at this year's San Francisco Writers Conference, something which still boggles my mind a little bit (but more on that in a sec). So yesterday afternoon, I drove down to the InterContinental Mark Hopkins Hotel, at the top of Knob Hill, signed in, and participated in a standing-room-only genre fiction-focused panel called "Making Your Fantasies Come True," along with editor Gabrielle Harbowy (who gave me a copy of her Dragon Moon Press anthology, When the Hero Comes Home), authors Ransom Stephens (a fellow Petaluman) and Pam van Hylckama, and agent and dean of San Francisco Writers University Laurie McLean.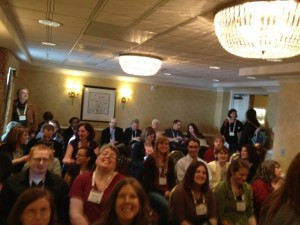 The panel was a blast, with a hungry crowd of prospective authors eager to ask questions and demystify the publishing industry, and I was pleased to be able to answer their questions, talk up Night Shade Books and our stable of authors, and give away a big handful of recent Night Shade titles to the eager audience.
After the panel and a handful of hallway pitches, I had a little bit of time to kill, so I ended up wandering up to a bar called The Big Four and having a beer (an Anchor Steam, for those keeping track) with a young writer from Tijuana named Xavier. We talked about graphic novels, literary influences (like me, Xavier is a big fan of William S. Burroughs), and how growing up along an international border–an Interzone, if you will–is, in itself, a science-fictional reality.
Then, I joined in the "Ask a Pro" session, holding court at a table, taking authors' questions and listening to pitches. One subject that came up was "Imposter Syndrome," something I suffer from on a regular basis. Imposter Syndrome is the anxious opposite side of the coin that reads, "fake it till you make it." It's the fear that someone's going to call you out, expose you as someone unqualified to belong to the fraternity of creative professionals. It's the phenomena that causes you to question whether you belong, to wonder what it is that qualifies you to be a part of the community of writers and editors, and whether you have that quality, or if you're simply faking it.
I've known writers and editors at all stages of their careers to exhibit signs of Imposter Syndrome, from first-time authors afraid the other shoe is about to drop to wizened writers uncertain how to navigate the damnable Retail Death Spiral. Writing is a solitary pursuit, wherein an investment of weeks, months, and years can be damned to failure by the whims of a fickle marketplace and the indifference of uninformed and brutal self-appointed critics. Rejection is such a soul-crushing force that even the threat of rejection can stifle the creative imagination and stay the hand that holds the pen. Even success is no guarantee, as writers are constantly faced with friends and family members who either don't read, or (worse) only read bestsellers, or ask the inevitable question, "You sold a book (or a short story), does that mean you're as rich as J. K. Rowling or Stephen King?"
As I said, I suffer from Imposter Syndrome myself, even though I've worked on hundreds of books, including a few major award winners, over the last five years. How do I fight it? How do I get through? I simply remind myself:
1) My anthology, The Book of Cthulhu not only made it onto the Locus Magazine Recommended Reading List this year, but it's also made it onto the Locus Awards ballot in the Best Anthology category. (Pssst… You don't have to be a Locus subscriber to vote, though subscriber votes count double, so if you want to make a difference and show your support for independent genre fiction, drop by the Locus website and vote!)
2) Also on the Locus Recommended Reading List and Locus Awards ballot are a number of other titles I worked on in some capacity, including Greg Egan's The Clockwork Rocket, Michael Swanwick's Dancing with Bears, Catherynne M. Valente's The Folded World, Kameron Hurley's God's War, Stina Leicht's Of Blood and Honey, Will McIntosh's Soft Apocalypse, Rob Ziegler's Seed (which I edited), Jonathan Strahan's Eclipse Four and The Best Science Fiction and Fantasy of the Year, Volume Five, John Klima's Happily Ever After, and Ellen Datlow's The Best Horror of the Year, Volume Three.
3) Two novels I edited, John Hornor Jacobs' Southern Gods and Thomas S. Roche's The Panama Laugh, are Best First Novel nominees on this year's Stoker Awards ballot.
4) I'm doing a job I love, and having a great time doing it, so I must be doing something right.
After the "Ask a Pro" panel, I took off my nametag, enjoying the sudden anonymity as I walked back to the parking garage, retrieved my car, and drove home to Petaluma, stopping to pick up a burritos from La Azteca before I got to the house. Once home, I cracked open a Hop Wallop from Victory Brewing, purchased as much for the cartoonish prospector on its label as for the promise of a DIPA.