Today's excerpt from The Children of Old Leech comes from Michael Griffin's "Firedancing," a tale of haunted people, haunted places, and haunting actions. So pour yourself a dram of the good stuff, sit back, and enjoy…
—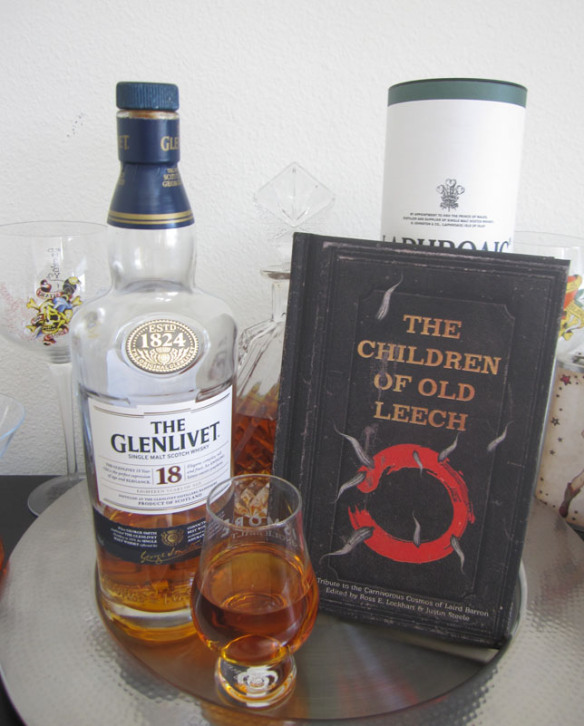 "Thoughtful of you." Bay tips back the Jim Beam fifth. The bottle knocks the ceiling inside Petersson's posh gentleman's pickup. "I was gone just a few hours. She managed to empty the place. Must've hired—"
"I said, don't talk about that. Don't think about that." Petersson's driving, I5 South. Three hours to Roseburg. "Lesson I learned after Minerva skipped. Obsessively sifting back, through everything, that ain't what you need."
"What do I need?"
"Mental reboot." He grins. "Puke your troubles away at a two-day party."
"So this Mallard Hill place, it's where Erik and Minerva grew up?"
"Mmm. Fifteen miles outside Roseburg."
"Speaking of Minerva."
Petersson's grip flexes on the wheel.
Bay tries again. "The worst thing about Annie leaving, I finally did what she wanted. Took a commission, murals for Cinema 21, that's an art theater in Northwest."
"I know, dummy. Film major, remember? You took us there." He exhales. "Seven Samurai. Me and Minerva."
"Lumber baron with a film degree, that's funny. Most of us liberal arts guys…" Bay stops. Another swig. "Annie set it up, knew the owner. They kept showing up, checking on me. Arrive together, leave together."
"We weren't going to talk about that."
Bay thinks, What else? "So Erik grew up on this hill, but won't attend the big drunk-fest?"
"Nah, he stopped that recovery shit. After he withdrew from us, his sponsor tried to make him cut off Minerva." Petersson shrugs. "Erik only drinks beer now. Lives on the edge of the Mallard tract, a cabin overlooking the South Umpqua. Started some river guide thing. Fishing, rafting." His face clouds. "Minerva's in the main house. Stopover from the endless touring."
"So much land, Erik gets his own corner." Bay resists redirecting toward Minerva. Petersson's breakup makes him feel less awful.
"Might be the most impressive parcel in Douglas County. Everyone thinks Old Mallard got rich in lumber, but Minerva let slip he returned from the Merchant Marines, World War II, a millionaire at nineteen."
"Merchant Marines, is that still a thing? Maybe they'd let me—"
"He climbs aboard the post-war lumber boom, builds Mallard Hill. Meets a woman up in Washington, on business near Olympic Forest. This first wife starts him jetting around, blowing millions in Mexico. Spends the sixties and seventies financing films, legendary stuff by Buñuel and Jodorowsky."
"Lest I forget that film degree."
Petersson makes an undignified snort. "Always trekking the wilds of Mexico, South America, Antarctica, returning rejuvenated, trailing new wives to replace ones who die of typhus or malaria. Finally disappears, the Chilean Andes. Erik and Minerva, living under Old Mallard's tutors and housekeepers, assume they're orphaned a second time. Everyone gives up hope."
"But…"
"He reappears, head shaved, silent as a mystic. No explanation where he's been ten months, what happened to wife number six, seven, whatever. Thereafter, no more film production or travel. Grabs another wife to replace the one rumored frozen to death. Further expands the house. His only indulgences are these parties, and the visiting artists, visionaries and occult weirdos. Some remain months, years at a time. Old Mallard, he's like fucking Tom Bombadil. Erik grew up thinking the man's his grandfather, later learns, no, it's great-grandfather."
Bay stifles envy at such a life. "One part Dos Equis' Most Interesting Man in the World, one part Kwai Chang Caine."
—
The Children of Old Leech: A Tribute to the Carnivorous Cosmos of Laird Barron may be ordered directly from Word Horde or wherever better books are sold. Ask for The Children of Old Leech and other Word Horde titles at your favorite bookseller.