I've been remiss in my review-gathering lately as we prepare for this Saturday's official release of Tales of Jack the Ripper. So, to make up for said neglect, here's a Recent Review Round-Up. Hopefully this influences what's next in your to-read queue.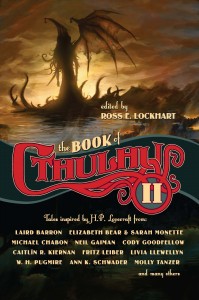 Black Gate reviews The Book of Cthulhu II, saying:
Last August, we celebrated Ross E. Lockhart's successful anthology The Book of Cthulhu, a marvelous reprint volume collecting some of the most famous Cthulhu stories of all time. I mentioned at the time that a second volume was in the works. Now I finally have a copy in my hot little hands and I'm pleased to say it doesn't disappoint.
The Book of Cthulhu II contains two dozen tales of cosmic horror inspired by the work of H.P. Lovecraft, including Karl Edward Wagner's "Sticks," Neil Gaiman's "Shoggoth's Old Peculiar," William Browning Spencer's "The Ocean and All its Devices," and John R. Fultz's "This is How the World Ends."
This thick volume also contains reprints by Michael Chabon, Elizabeth Bear and Sarah Monette, Fritz Leiber, Kim Newman, Jonathan Wood, and many others. There are also four original contributions, including the novella "Hand of Glory" by Laird Barron, which is currently on the World Fantasy Awards Ballot for best novella.

Read the full review at Black Gate.
Also reviewing The Book of Cthulhu II is Confessions of a Bibliomaniac, who provides detailed notes on all twenty-four stories, and concludes:
On the whole, I loved this collection. A lot of the stories were excellent, but like with any collection you'll have some that were better than others. I love Neil Gaiman, but given my choice I'd put in A Study In Emerald over Shoggoth's Old Peculiar. Its simply a better tale–though, I'll allow, perhaps not a better tribute to the original Lovecraft. Some of the stories I flat-out disliked, but that was probably a matter of taste. Certainly they are different than the ones cited by other reviewers as having fallen flat for them. A few of the stories, good as they were on their own, probably would have been enhanced by a more thorough knowledge of Lovecraft's works. I've only read a very small selection as of this writing. I plan to remedy that in the near future….I very much recommend picking up this book if you ever get the chance.
Read the whole review at Confessions of a Bibliomaniac.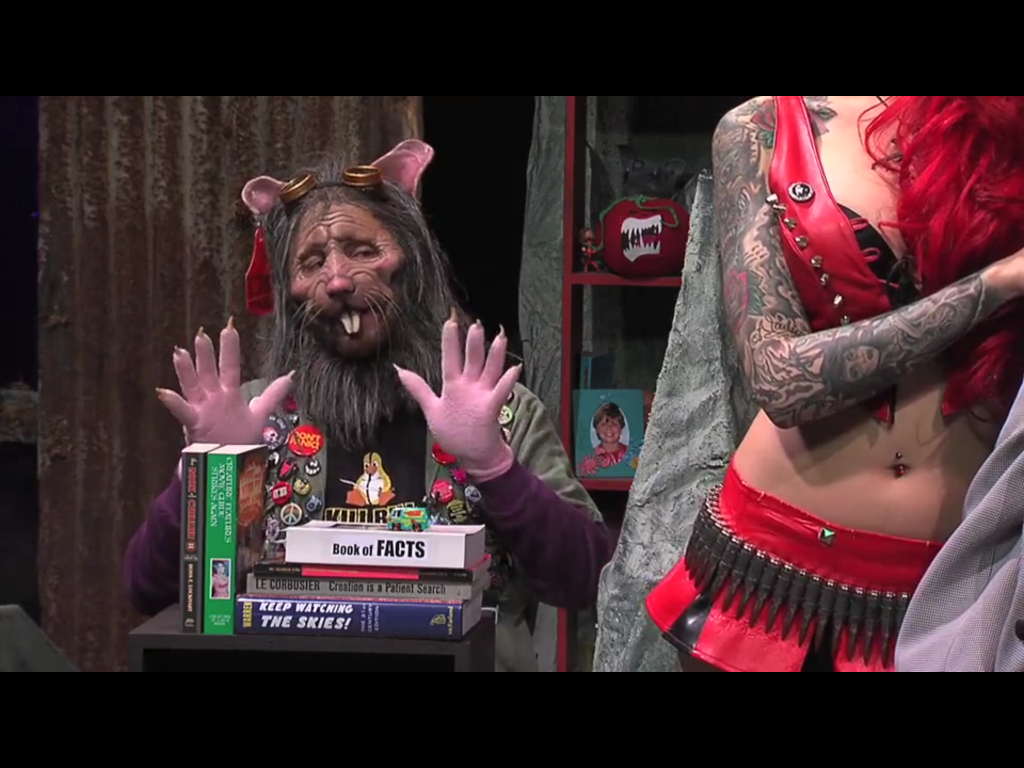 Late-night television personality Webberly Rattencraft, shown above with The Book of Cthulhu II (on the left!) and about two-fifths of Cave Girl Shotzi Blackheart (on the right!) recently reviewed my punk rock novel Chick Bassist on his blog The Voluptuous Horror of Facts. Quoth Webberly:
While the book is thin, the author doesn't waste any words, setting a properly punk rock pace that pulls you right through the story without letting up. Occasional pauses to take a mental breath are recommended, as is the playing of whatever music might be mentioned in the text as you go (the Internet is the biggest jukebox in history–use it before someone ruins it completely). The use of different voices for the different points of view that the story cycles through fortunately comes across as more than just a gimmick. Each is compelling to read for a different reason as you follow along for a while in the lives of a few people who, deep down, aren't entirely sure whether they're on their way up or down.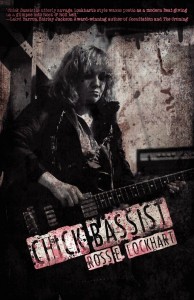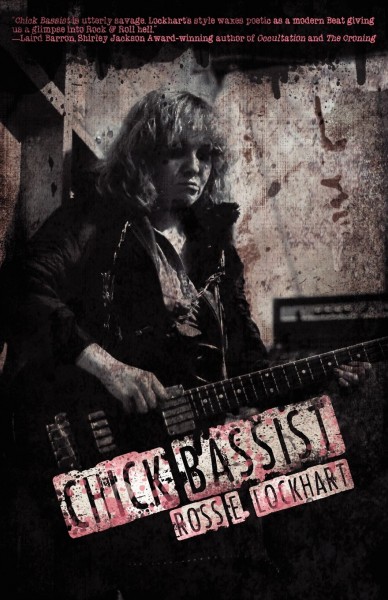 Read the whole review at The Voluptuous Horror of Facts.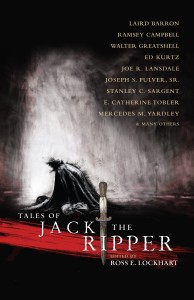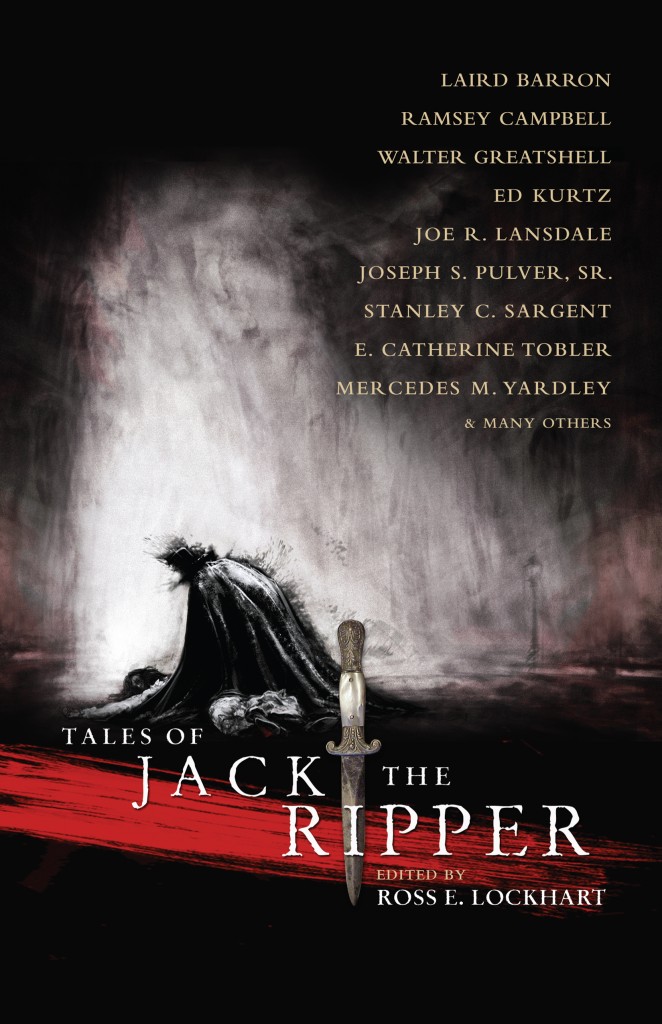 And finally, Blu Gilliand reviews Tales of Jack the Ripper for FEARnet.com by starting with a question, asking " is it okay to base a piece of entertainment on a real-life serial killer?" and "why does this particular killer attract so much attention?"
After examining in detail the stories by Orrin Grey, Alan M. Clark & Gary A. Braunbeck, Joe R. Lansdale, Patrick Tumblety, and Walter Greatshell, Blu concludes:
What Lockhart has done with this anthology is to show that the Jack the Ripper story has grown far beyond who- or whatever murdered those women all those years ago. It's become a myth, grounded in fact, and the reason it continues to hold power over us today is because we still don't understand what happened, or why, and we likely never will. Stories like that are the stories that continue to frighten us, and until we can banish those shadows forever, there will always be writers wrestling with them on the printed page.
Tales of Jack the Ripper manages to walk that fine line between entertainment and exploitation with real finesse. It's a gripping group of stories about one of our most enduring mysteries, and well worth your time.
Read the full review at FEARnet.com
Want to review one of my books? Make your case to publicity[at]WordHorde[dot]com and we'll see what we can do for you.