The night of August 6, 1888 in London's Whitechapel district was dreadfully cold, windy, and rainy, so Martha Tabram spent the evening drinking at the Angel and Crown alongside her friend Pearly Poll and a pair of soldiers the two had met. Drink was a constant companion in Martha's life; her husband Charles Tabram had left Martha over alcoholic fits in 1875, and her relationship with Henry Turner had just ended over money problems in July. So Martha and Poll got by amid the squalor and poverty by turning tricks in the world's oldest profession.
At 11:45 that night, Martha and Poll left the pub with the soldiers, Poll taking one of the men up Angel Alley, Martha leading her soldier to George Yard, an alley off Whitechapel High Street. At about five in the morning on August 7, dockworker John Saunders Reeves discovered Martha's body as he was leaving for work and called a neighbor, cab driver Albert George Crow, who had seen Martha's body upon returning home from his shift at about 3:30 that morning, and dismissed it as just another sleeping vagrant.
The men called Dr. Timothy Robert Killeen to the scene. Dr. Killeen determined that Martha Tabram had been stabbed thirty-nine times with a short knife in the throat, lungs, heart, liver, spleen, stomach, abdomen, and genitals. Dr. Killeen estimated that Martha had been killed between 2:00 and 3:30 that morning. Residents denied hearing anything unusual. The police investigated, questioning an uncooperative Pearly Poll, but uncovered no solid leads. On August 23, an inquest into Martha's death was held, and deputy coroner George Collier determined that she had been murdered by person or persons unknown.
On August 31, 1888, after another Whitechapel prostitute, Mary Ann Nichols, was killed, the London press began to draw connections between the two murders. Though the MO was different–Tabram had been stabbed with a short blade; Nichols' throat and body were slashed with a long, sharp knife–could the same killer have been responsible for both women's deaths? And was there a connection to the April 3 murder of yet another area prostitute, Emma Elizabeth Smith? Today, Nichols is considered the first canonical victim of Jack the Ripper, whereas Martha Tabram is largely forgotten, a footnote in a case that would grip the public's imagination and inspire storytellers for the next 125 years.
Did Jack the Ripper murder Martha Tabram? The experts disagree. What do you think?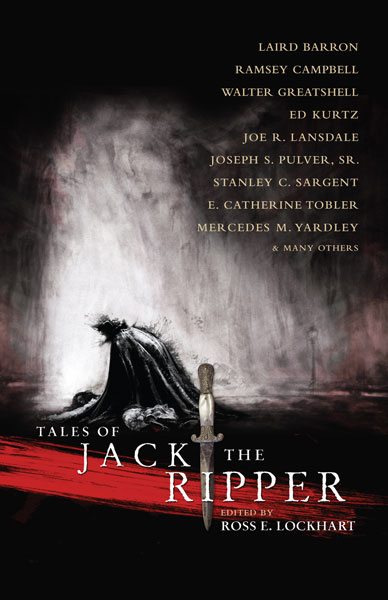 This post is brought to you by Tales of Jack the Ripper, an anthology of seventeen stories and two poems examining the bloody legacy of the most famous serial murderer of all time. Ask for Tales of Jack the Ripper by name at a bookseller near you, or order the Saucy Jack Deluxe Pack from Word Horde.